Painting Conservation

From the simplest painting by an unknown artist, to the most grandiose expression from a well-known painter, Avalon Studio is here to ensure that your art does not suffer through the test of time. Whether you are seeking to repair minor damages to a work of art or you are seeking a full restoration for a canvas painting that has been neglected throughout the years, we are certain that we can help you reclaim the beautiful work of art that still exists within the frame. Take a look at a few of the ways we are helping art lovers get the most out of their oil and acrylic paintings in Nashville, TN:
Restoration services: Restoring a painting is not a job that anyone can do—it takes years of experience, proper technique, special tools and resources, as well as an eye for art that is lost on many restoration services. At Avalon Studio, we are a restoration service that is keen on preserving the originality and expression of each painting that we touch. Our attention to detail is unparalleled, our workmanship is unmatched and we take pride in each work of art that we restore. Even when it seems as though your Art is lost to the weathering of time, we will help you to revive it to a level of museum quality perfection. Call us today to learn more about how we can help you reclaim your art.
One on one meetings: It is hard to assess the damage to a piece of Art over the phone, however that does not stop many other restoration services from offering quotes and prices for generic restoration services. At Avalon Studio, we carefully inspect your Artwork in a face-to-face capacity, allowing us to understand exactly what type of treatment or service your work of art needs to look like new again. We truly approach each restoration with fresh eyes, allowing us to give your art the unique attention that it deserves.
Professional accreditation: At Avalon Studio, we have gone above and beyond to make sure that our customers can trust our work and our results. As a member of the American Institute of Conservation we take pride in upholding the integrity of art and our affiliation with the Society of Gilders ensures that all of our workmanship is of the highest quality. We are also members of the American Portrait Society and an expert Portraitist. Our professional accreditations only serve to compliment our refined skills, which we are proud to stand behind.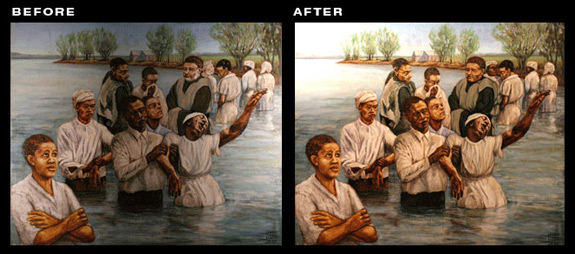 If you are seeking to breathe life back into a piece of art that is looking lackluster or has begun to show its age, let the professionals at Avalon Studio help you recreate the magic of your Artwork. Call us today at 615-585-3336 to learn more about our expertise regarding Art Conservation in Nashville, TN.